It is called worthily by the residents our "Palace"
It is a modern and luxurious residential complex ideal for families and couples who love to be in a quiet and relaxing place with endless delights!
These fabulous residences have a beautiful colorful garden where the butterflies come to flirt with the flowers and the swallows dive into the crystal clear waters of the pools.
 In a quiet and dreamy environment, the endless blue of the sea, along with the warm Greek sun and fantastic sunsets, create the ideal conditions for anyone who needs a dream in Plataria!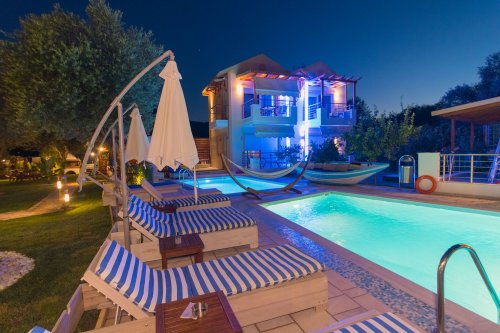 Our impressive homes have large verandas with sunbeds surrounded by the Ionian breeze, private pools and parking.
Inside, they are fully equipped with modern and functional furniture with the latest technology standards and high taste, separate bedrooms, two bathrooms, hydro massage cabins, living room, kitchen with all necessary utensils and electrical appliances and dining areas both inside and outside building.
In addition, we have autonomous air conditioning and plenty of hot water throughout the day from the f / v collectors of the building.